On Saturday 11th June, England's Euro 2016 campaign will begin against Russia in Marseille. With just one week between now and then, I've assessed the chances of our proud footballing nation.
The Level of Experience
With an average age of 25.8 years, England have the most youthful side at the tournament. There are both pros and cons with this. Michael Owen has called for us to play without fear, something a young passionate side can provide. However, the other end of the stick highlights the risk of the inexperienced players crumbling under pressure – use Tottenham's Premier League decider against Chelsea for an example.
The Style of Play
Roy has publicly stated that he opted for 18 year old forward Marcus Rashford over Premier League champion Danny Drinkwater because of the attacking mentality he wanted from his squad. Drinkwater can feel hard done by, for sure, but if he doesn't fit the game plan the manager believes will win us the tournament then so be it. It's what fans have been crying out for for years, we want to see entertaining football, and we now have exciting players in abundance.
The Squad
The squad as a whole is one of the strongest England sides for many years. The spine of the team; Hart, Cahill, and Rooney have a wealth of experience. The players around them have age on their side, and players like Dele Alli and Jamie Vardy play with their heart on their sleeve – English fans love passion!
Roy has bought 5 top class strikers – no complaints at all there. He has 3 very good goalkeepers – no complaints there either.
The defence is the area which holds the most concern, however the emergence of the Tottenham full backs Walker and Rose has somewhat calmed those concerns. Although we conceded just 3 goals in 10 matches during the qualifiers and came out with a perfect record, the opposition wasn't worthy enough to claim our defence is rock solid.
Therefore, the inclusion of Eric Dier to the squad (although ignored by most as he was almost a guarantee) could be the missing piece of the jigsaw. The extra line of defence in front of Smalling and Cahill could be instrumental in stopping attacks, very much like Kante did in order to secure Leicester City's first ever Premier League title.
And now for the controversy… Jordan Henderson and Jack Wilshere. A few years back we thought these 2 would form the central midfield for England for years to come. Injury has flawed their development. Again, if you're Danny Drinkwater you may have a few questions for Roy. But Henderson brings and energy and a passion to the squad, and although is unlikely to start, he would be a good character to have in the dressing room. Wilshere is quite the opposite, an annoyingly good footballer despite his problems, and always seems to put in a MOTM performance for England. He looked good against Portugal, and has the potential to start – injury permitting.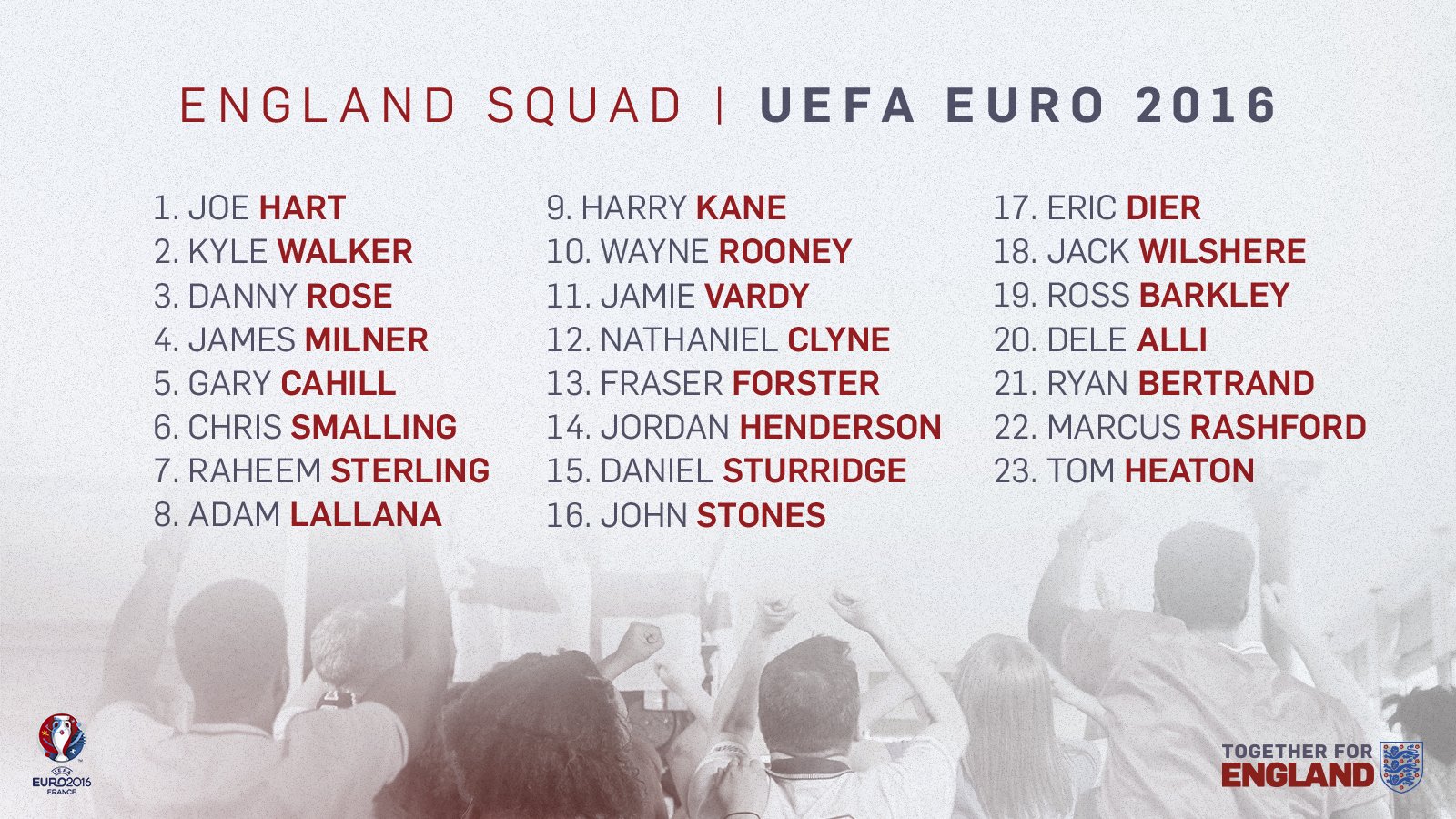 The Opposition
Paddy Power have England (8/1) 4th favourites behind hosts France (3/1), World Champions Germany (4/1), and current European Champions Spain (5/1). Maybe it's because we're English and they're Irish, or maybe it's because we're not as good as France, Germany, or Spain. In my opinion it's the latter.
I fancy us to reach the semi-finals, but coming up against any of these successful and experienced footballing nations seems a tall order, however on our day we can beat anyone. In the build up to the tournament we beat France at Wembley and Germany in Berlin – so who knows right?
England should top the group, and if football can take anything whatsoever from rugby, it's that we mustn't lose to the Welsh!
The Verdict
Would it be naive of me to be the stereotypical English fan before a major tournament suggesting we can win it?
Having learnt from the past and approaching this tournament with caution, my prediction is we will at least reach the semi-finals. Just please no penalty shoot-outs!
18 years on we return to France, Bring it home boys.
Will Wood, Leeds Beckett University, Sport Marketing Student
References;
Clark, A. (2016) • What country has the youngest and oldest squads at Euro 2016? | Accessed: 4 June 2016
Fifield, D. (2016) • England's Euro 2016 squad: The 23 picked by Roy Hodgson | Accessed: 4 June 2016
Paddy Power (2016) • Outright betting – Euro 2016 odds and betting | Accessed: 4 June 2016
UEFA (2016) • UEFA EURO 2016 – Matches | Accessed: 4 June 2016
UEFA (2014)  • UEFA EURO 2016 – Standings | Accessed: 4 June 2016